Another go-to-the-class outfit. Actually this T-shirt is what I wore when I go to dinner with my friends, click
here
, and I make a post with this T-shirt too with another style but still in outfit to go to the class, click
here
.
Chu~~~ Inspired from G-Dragon from
BIGBANG
~(˘▽˘~)(~˘▽˘)~ I wish
BIGBANG
all the luck they could get :) I hope
BIGBANG
will do well in this Dragon year (Chinese Calendar). Since Yong (aka dragon) is the head of the group. JiYong oppa, please be well :)
BIGBANG
HWAITING!! ♥ ♥ ♥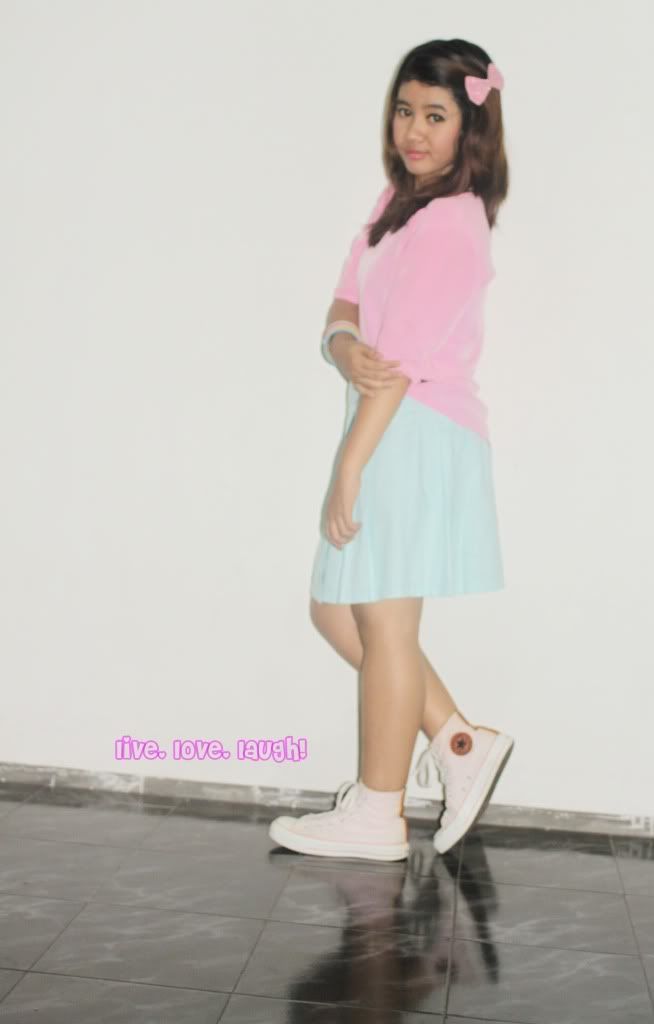 DIY Pink T-Shirt, Skirt by Detail, Assorted Bracelet, Sneaker by Converse.
By the way, have you read my
previous post
about Gowigasa giveaway? Yes, the giveaway was closed on 22 January and they announcement the winners on 23 January on their blog and twitter. The very good news is I was one of 10 lucky winners yay!
☆ヾ(^∇^)
I win goodie bags worth more than IDR 270,000 and I got featured on Yamada sisters blog, click
here
. Kyaaa I was so freaking happy! Thank you Gowigasa, good luck always
♥♡!! *HUGS*
Don't forget to join my first giveaway, click here. Still 17 days left. Good luck! :)
You can tweet
about this giveaway as much as you want (don't forget to mention me!) and/or blog about this giveaway (please include a link on my giveaway post), I'll count that as a extra entries.
P.S: Please check my online shop (on my right sidebar with 'SHOP ME' label or just click
here
), I've done upload new collection \(•ˆ ó ˆ•)/ I know maybe some of you get bored with my indoor photo shoot, don't worry, on my next post I'll post about my short holiday on the beach (that means no plain background, yay!) Stay tuned!
ˆ⌣ˆ